Flame lamination involves exposing a piece of material to an open flame, which creates a thin layer of molten polymer on the surface.
Another substrate is then brought into contact with this layer.
Finally, as it cools the two materials are compressed, enabling the surface to bond together.
We offer flame lamination services for a range of industries at a reasonable price. Discuss your requirements with our experts today for your upcoming lamination projects.
What is Flame Lamination?
Flame lamination is the method of laminating flexible materials, with the heat generated by an open flame. Typically, the polyurethane foam (the core material), will need to be altered by the open flame, so that it can create a tackiness, to then adhere to another layer of material, such as vinyl or fabric.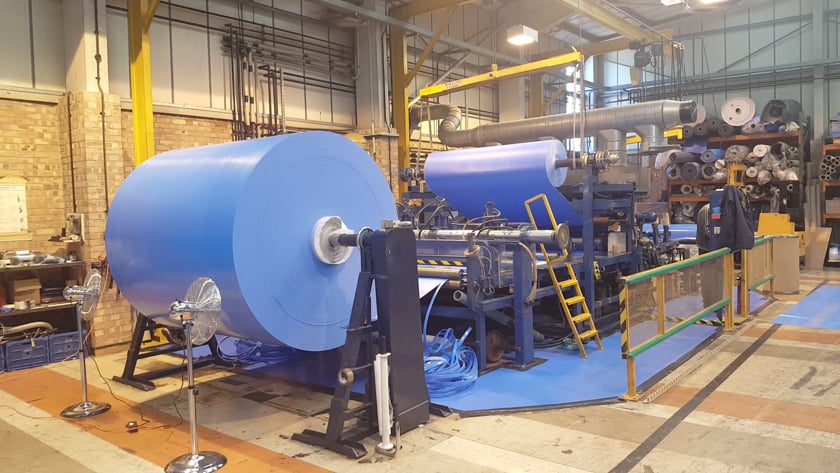 How does Flame Lamination Process Work?
Polyurethane foam is heated using a controlled flame. Another substrate is then joined via direct contact with the foam using controlled pressure and tension.
The flame lamination process involves bonding a foam and textile together as the molten foam rapidly cools. The strength of the bond between the foam and the substrate is determined by factors such as the speed and distance at which the foam passes through the controlled flame.
When dealing with foam and fabric, the foam-rolled materials undergo a process where they are moved over an open flame. As a result, the side that comes into contact with the heat undergoes a slight melting and becomes sticky. Then the foam is promptly joined with a fabric, and the two materials will stick together without the requirement for any supplementary adhesives.
By using this method, it is possible to enhance the functionality and versatility of materials by merging fabrics with non-woven materials, or by using fabric on both sides, as well as a variety of fabric combinations that may include foams, films, and knits. These combinations can offer a range of properties and characteristics that the individual layers would not possess on their own. It is worth considering whether this type of versatility could be advantageous for your specific requirements.
What are Flame Lamination Benefits?
Compared to other lamination options, flame lamination is not only more cost-effective but also more efficient. As a result, skilled advanced materials manufacturers who specialise in lamination prefer to use this technology due to its speed, productivity, and cost-effectiveness. Additionally, it offers other advantages that are worth highlighting:
Material versatility: Flame lamination is an efficient approach to bonding pliable foams, typically made of polyurethane, and specific non-woven materials to a wide range of other substrates, such as fabrics, films, and papers, provided that the core material is flame laminable.
No adhesive requirement: In flame lamination, there is no need for additional adhesive technologies, as the process enables the combination of various materials in a single step. This reduces the likelihood of adhesive creep or bond failure between substrates, either immediately after the adhesive application or over time.
Sustainability – The lack of adhesives greatly improves its recyclability and reusability because there is one less component in need of separation.
Faster Construction – Usually, flame lamination is quicker than other lamination processes.
Multi-layer Capability – The flame lamination process utilises combined flexibility because the process creates a laminate on one side, or both sides, of the core materials.
Variable thickness – Your combinations can be as thick as .75 inches, and some of the applications can add no noticeable thickness, by using only a thin layer of polyurethane foam.
Our Flame Lamination Blogs
Want to learn more about Flame Lamination, check out our comprehensive blog guides, which include all the benefits and advanatages to flame lamination.
The lamination process is a viable solution for combining materials in multiple layers to provide improved strength, insulation, stability and appearance. This process can be applied to several different materials, including plastic, paper, foam, glass, metal, wood and more – with numerous different ways to complete the process. One of these ways is known as…
The Features of Flame Lamination
Environmentally Friendly: By not using adhesive, it means the materials are easier to recycle, making it a much more environmentally friendly alternative to most other methods.
Cost-effectiveness: Unlike other bonding methods that require the use of extra adhesives, flame lamination does not require any additional materials, making it a cheaper solution.
Fast and efficient: The flame lamination process is often much faster than other lamination options.
The flexibility of material: Flame lamination can be performed on a wide range of materials, although often the core material is Polyurethane foam.
Strong bond: Flame lamination creates a strong bond, making it a great application where high levels of strength are required.
Resistance: Flame lamination can produce materials that are resistant to water, chemicals, and other environmental factors.
Design flexibility: With flame lamination, it is possible to create customised designs and patterns by combining different materials and colours.
Flame Lamination Applications
Flame lamination has a variety of uses suited for different industries. Here are some of the industries they are used in frequently:
Luggage
Car interiors
Packaging
Medical disposables
Intimate wear
Orthopaedic padding
Costumes
Laminates
Beverage insulating
Thermal/acoustic insulation
Why choose our Fame Lamination Services?
The benefits of flame lamination make it a popular choice for many advanced materials manufacturers. It is a versatile process that can bond a wide range of materials, does not require additional adhesives, and is fast and customisable. However, there may be specific questions or concerns that arise when considering flame lamination for a particular project.
Our expert team are more than happy to consult with you on materials, applications and processes, to create a bespoke custom solution to suit you. Get in touch today to discuss your flame lamination requirements.
Frequently Asked Questions
The main materials used in Flame Lamination are foam made of polyester, polyethene, polyether as well as various other foils, papers and textile materials.
Flame laminating machines are used to join thermoplastic materials together, including foam made of polyester, polyether, polyethene or various adhesive foils and textile.
Have A Question? Get In Touch!
OPENING HOURS
Monday - Thursday 8:00am - 4:00pm
Friday - 8:00am - 1:00pm
Saturday/Sunday - Closed