Flame Lamination Specialists
Flame lamination involves exposing a piece of material to an open flame, which creates a thin layer of molten polymer on the surface.
Another substrate is then brought into contact with this layer. 
Finally, as it cools, the two materials are compressed, enabling the surfaces to bond together.
We offer flame lamination services for a range of industries at reasonable prices. Discuss your requirements with our experts today for upcoming lamination projects.
Want to learn more? Check out our comprehensive blog all about the benefits of flame lamination!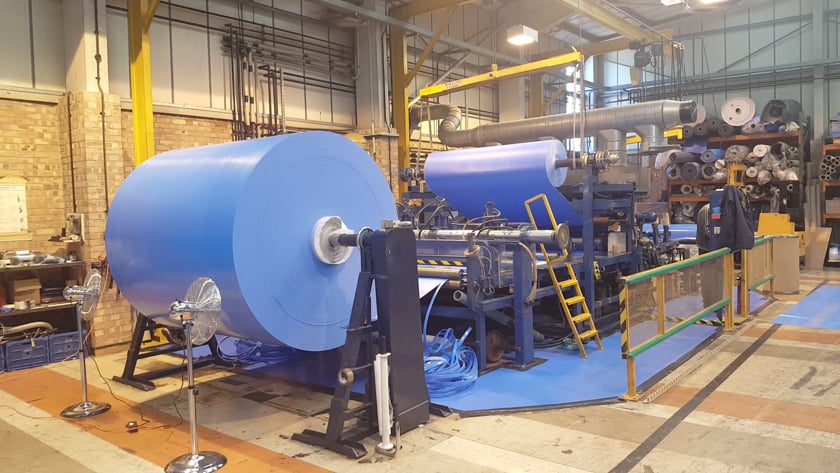 How does the Flame Lamination Process Work?
Polyurethane foam is heated using a controlled flame. Another substrate is then joined via direct contact with the foam using controlled pressure and tension.
The flame lamination process involves bonding a foam and textile together as the molten foam rapidly cools. The strength of the bond between the foam and the substrate is determined by factors such as the speed and distance at which the foam passes through the controlled flame.
What are the advantages of Flame Lamination?
Flame lamination has many benefits, including the low cost and how highly efficient it is.
No adhesive needed - One of the key advantages of flame lamination is that adhesive is not required, eliminating the risk of bond failure as well as cost savings.
Fast & efficient – The flame lamination process is often much faster than other lamination options.
Flexibility of material – Flame lamination can be performed on a wide range of materials, often the core material is Polyurethane foam.
Environmentally Friendly – By not using adhesive, it means the materials are easier to recycle, making it a much more environmentally friendly alternative to most other methods.
Check out our blog for the full list of advantages of flame lamination.
Flame lamination is described as changing the surface of a material (usually polyurethane foam) to a molten state and rapidly cooling to perform a cohesive bond. It is a very effective method of bonding foams and other materials such as fabrics, papers and films.
The main materials used in Flame Lamination are foam made of polyester, polyethene, polyether as well as various other foils, papers and textile materials.
Flame laminating machines are used to join thermoplastic materials together, including foam made of polyester, polyether, polyethene or various adhesive foils and textile.
Have A Question? Get In Touch!
OPENING HOURS
Monday - Thursday 8:00am - 4:00pm
Friday - 8:00am - 1:00pm
Saturday/Sunday - Closed